It's so simple.
(You'll wish you had started using this sooner)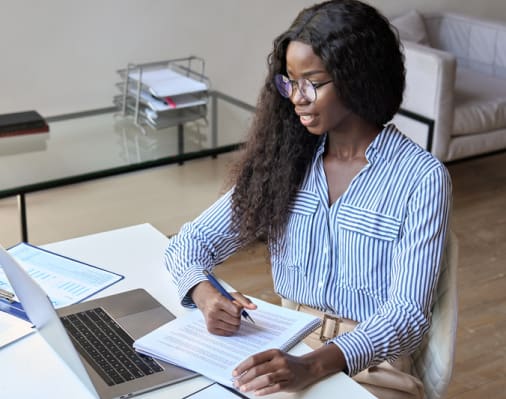 1
Get started with confidence
A Reimbursify-enabled practice gives both the patient and practitioner coverage peace-of-mind.
Karen wants to see an out-of-network therapist named Aaron, but she's worried that her insurance won't cover his services.
2
Instantly understand coverage
Karen uses Reimbursify's VeriFAST to submit her insurance info – the practice replies saying that that she could get 80% of her session cost back and books an appointment right away!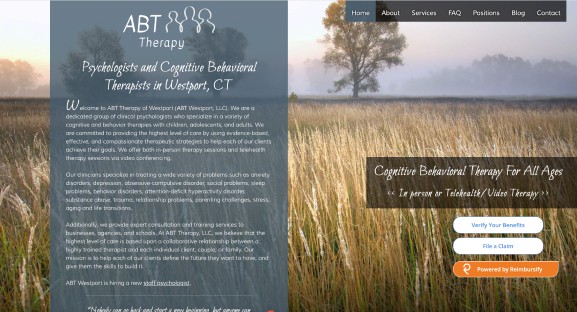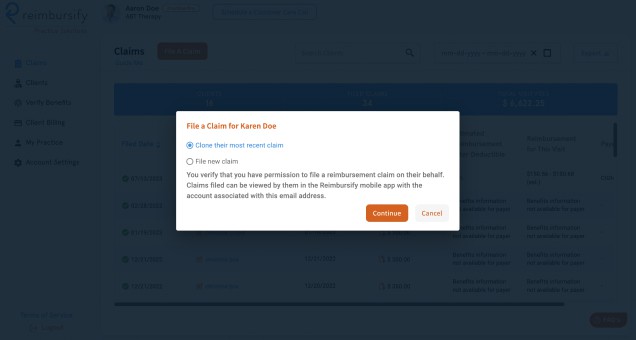 3
No extra work for anyone
After their session, Aaron collects his full fee from Karen using the easy built-in Reimbursify payments system (optional).
He clicks a button to file Karen's claim directly to her insurance company as a courtesy (or he can let Karen file her own claim through the Reimbursify app).
4
Track how fast you are reimbursed
Karen can track the progress of her claim in her app and gets her reimbursement sent directly from her insurance company in a few weeks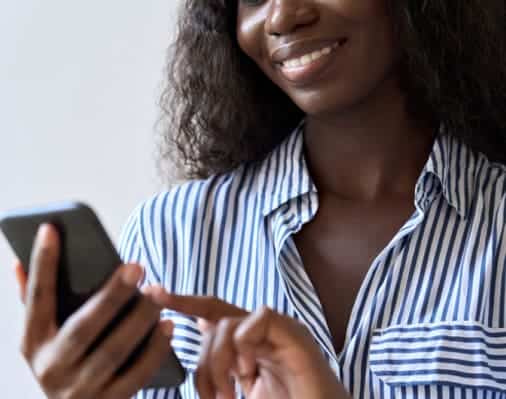 Smarter and more reliable
From start to finish, the Reimbursify claims process is so easy to follow. Claims are created, optimized, filed and tracked for fast and accurate processing for reimbursement, guaranteed.
Faster reimbursement
With instant out-of-network claims filing say goodbye to errors, claims "lost in the mail," or processing delays. Patients get reimbursed faster, miss fewer appointments and stay in treatment longer.
Awesome support & satisfaction.
We know how tricky the out-of-network reimbursement landscape can be to navigate. Reimbursify's experienced Customer Care team supports patients and practitioners every step of the way.
See the healthcare provider you want to see. We'll take care of the paperwork
Don't let the inconvenience of filing out-of-network claims limit who provides you care. With Reimbursify, submit claims in less than a minute and get paid faster. It's paperless and simple to use. The best way to claim your money back!
Reimbursify is so easy to use! Also, the turnaround time is faster than when I directly submit the claims to my insurance company. This app is a revelation to anyone who puts off submitting their claims and to those who like to stay on top of things. They also have outstanding customer support
Alyssa S
Claims get into the insurance company database for processing faster. Refilling is a million times easier. Reimbursify customer service by email has always been responsive, helpful, and personalized
Jonathan R.
This app is awesome! Reimbursify took the hassle out of self-filling for reimbursement of out-of-network claims. Easy, straightforward to use. I was able to successfully get reimbursed for claims dating back to 2019! So far, I've been reimbursed $3k on claims which I tried submitting myself but ended up being rejected. I've recommended this app to so many health care providers and patients!
Jen W
I wanted to send a huge thank you to you for setting up Reimbursify. I just received a check for $2,300 for my services during 2021. I would not have pursued these dollars back had you not offered Reimbursify through the clinic. So thank you, thank you, thank you. I imagine it costs to clinic something to offer this and I just want you to know that it is so worth it for me.
Anne M
Frequently Asked Questions
Take complete control of your out-of-network reimbursement claims
Get out-of-network reimbursement running like clockwork with Reimbursify